A legacy of the 20s (pandemics aside) has been "revisionist history".
In addition to being a great podcast by Malcolm Gladwell, the global west has seen a sharp uptick in historical revisionism this decade, with a broader cultural reappraisal leading to hardening attitudes towards historical colonialism, and past and present racial oppression.
In the aftermath of the Black Lives Matter protests of 2020 which swept across the planet, over 70 statues, street names, plaques, and memorials across the UK alone were either taken down or renamed.
Over 100 confederate statues were removed in the US that same year, with scores of others across Europe and Oceania meeting the same fate. 
Commentators described the phenomena as an "unprecedented" reckoning with history.
As historian Dr Charlotte Lydia Riley wrote in the headline of an opinion piece published in The Guardian, "don't worry about 're-writing history': it's literally what we historians do".
"The number of monuments to men who enslaved other humans or who killed hundreds of unarmed civilians or who performed other horrific crimes in the service of empire, or the woman who presided over them, stands in contrast to the number of critically engaged conversations we have about empire's crimes," Dr Riley wrote, referring to the UK's cultural revision. 
"Every time a statue comes down, we learn a little more."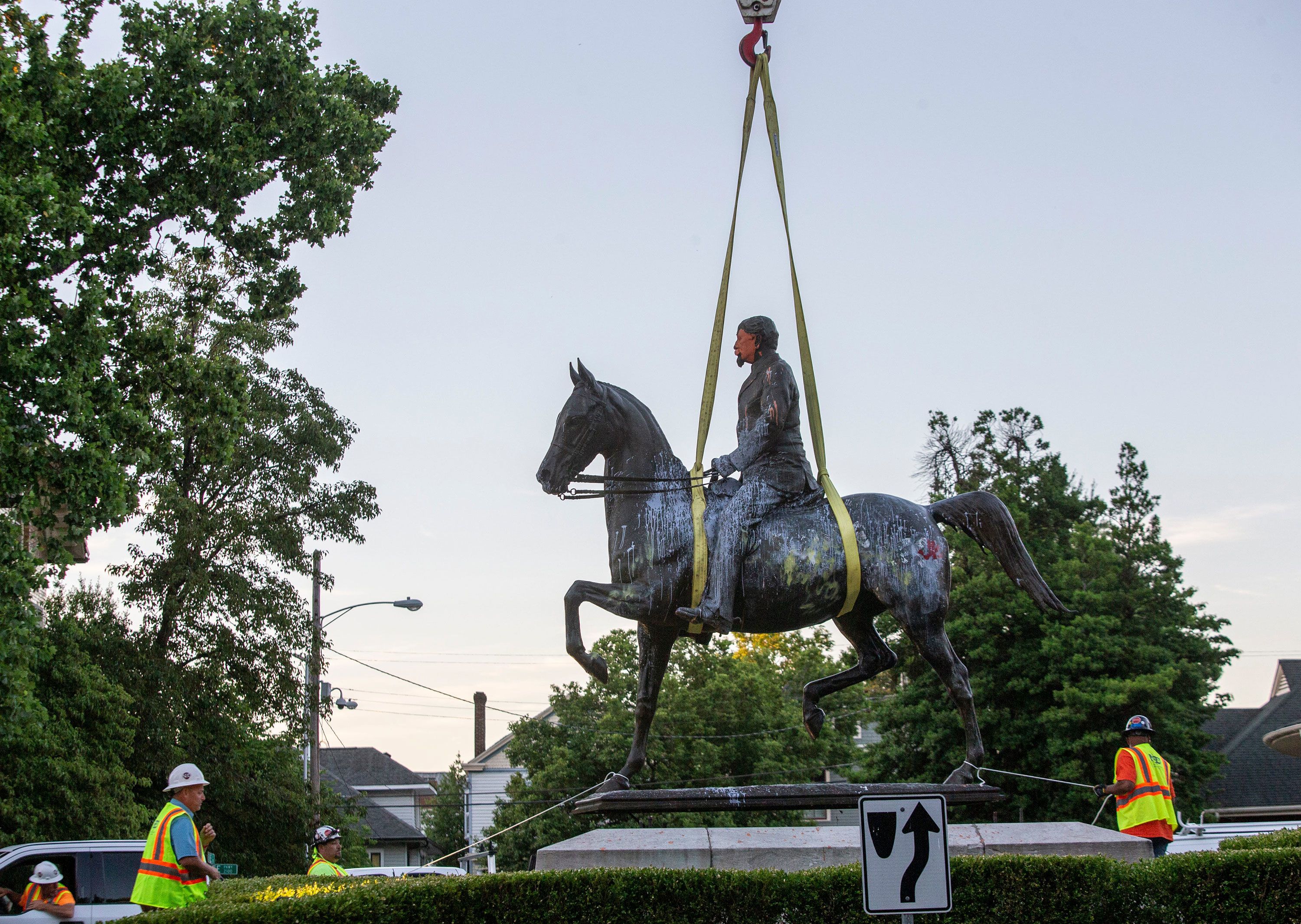 The John B. Castleman statue, in Louisville's Cherokee Triangle neighbourhood, was removed from its pedestal where it stood for over 100 years.
Despite this social shift, however, Australian historian Dr Sarah Irving-Stonebraker warns that this revisionism mustn't come at the cost of broader historical ignorance – a trend that she's observed developing in her work as a lecturer at Australian Catholic University.  
"In our culture today there is a strange set of attitudes towards history", she said, speaking on the Undeceptions podcast.
"On the one hand, there is a highly politicised approach to the past in which people care passionately about symbols and what they represent.
"On the other hand, we know less than ever about history and are losing the ability to grapple with the ethical complexities in the past – the entwining of good and evil in the exact historical figure or empire, for example."
An Ahistoric age
Dr Irving-Stonebraker warns that rather than becoming more informed, people are in fact drifting away from a healthy knowledge of history altogether.
Drawing upon the example of a student who had no desire to learn about the British Empire as it had "no effect" on their life, Dr Irving-Stonebraker warns that western culture is flirting with an "Ahistoric" age. 
"In contemporary western societies underpinned by the idea that life is about self-invention and fulfilment, we have largely ceased to think of ourselves as historical beings," she said. 
"Not long ago part of the point of studying history was to understand the history of peoples, empires … and make sense of who we are, and how to be citizens in our societies in light of these larger stories.
"We yearn for justice, we long for the horrific wrongs of history to be understood, but we can only engage with this kind of issue if we have robust criteria for assessing justice and injustice.
"The more we unhinge the individual from the larger stories that give an account of the big questions, the more we are ill-equipped to grapple with history.
"We reduce ethical reasoning to emotivism. We assert our wills and feelings. We fumble around with crude, ideological categories rather than engage in genuine conversation."
While by no means discrediting attempts to promote truthtelling, Dr Irving-Stonebraker noted it was still possible to critique injustice through "the lens of a larger story", pointing to the actions of the famed abolitionists of 18th and 19th century Britain as a prime example.
After decades of lobbying the movement – led by the late, great William Wilberforce – tasted victory when Britain's Parliament passed the Slave Trade Act in 1807, outlawing the slave trade in the British Empire.
The Slavery Abolition Act of 1837 took things a step further, making slavery illegal across the entire Empire. 
William Wilberforce's statue outside the Wilberforce House museum in Hull, England
It was only through constant, painful discourse – as well as an acute awareness of God's vision for humanity across history –  that the biblical standards of human decency came to be passed into law. 
Dr Irving-Stonebraker said this was a prime example of re-engagement – not detachment. 
"Individuals (can't be) detached from a transcendent story which gives an account of big questions and grounding for moral and ethical categories," she said.
"We need to engage with history through the lens of story that gives us a way of understanding and critiquing injustice, making sense of human failings, yet also giving a vision of hope, and human flourishing.
"These are the intellectual resources that equip us to wrestle with the past in an ahistoric age."
Written by Alasdair Belling, adapted from the Undeceptions podcast episode 'Ahistoric Age'
Want to be further undeceived? 
Check out our network of podcasts and articles in the Undeceptions Library.